Southwest Climate Outlook September 2015
Thursday, September 17, 2015
Assistant Research Professor, Arizona Institutes for Resilience
Other Affiliations:
Assistant Professor of Anthropology, School of Anthropology
---
Ben McMahan joined CLIMAS after completing a PhD in Sociocultural Anthropology at the University of Arizona. His dissertation research was on hurricanes and disaster on the U.S. Gulf Coast, where he focused on
Human interactions in dynamic social and environmental contexts,
Risk perception and landscape changes during and after disaster, and
Social network and policy responses to governance issues related to the acute threats of disaster; as they layer onto long term environmental issues and landscape scale changes.
He was also a key contributor to UA Bureau of Applied Research in Anthropology (BARA) collaborative/trans-disciplinary research on the social, economic, and environmental impacts of the US Oil and Gas industry (2007-2011), and the aftermath of the Deepwater Horizon oil spill (2010-2013).
At CLIMAS, his research activities included tracing how climate information is incorporated into regional decision maker networks, leading CLIMAS team research on the risks and effects of climate extremes, and collaborative research on the effects of climate variability on phenology and temporality of native plants in the region. He was also responsible for working to develop collaborative research opportunities and outreach efforts at CLIMAS, and as part of ongoing assessment and science/strategic planning, he contributed to strategic planning used to prioritize future research and outreach directions. He also coordinated publication of the monthly Southwest Climate Outlook, produced the Southwest Climate Podcasts, and was the online editor for CLIMAS' blog - Southwestern Oscillations.
Precipitation: In the past 30 days, much of Arizona and New Mexico recorded below-average precipitation, although isolated areas received above-average precipitation (Fig. 1). This is consistent with the variable nature of the monsoon, especially during the seasonal transition. Water year precipitation to date (since Oct 1, 2014) offers hope in terms of drought relief, with much of Arizona and New Mexico recording above-average precipitation for the water year (Fig. 2).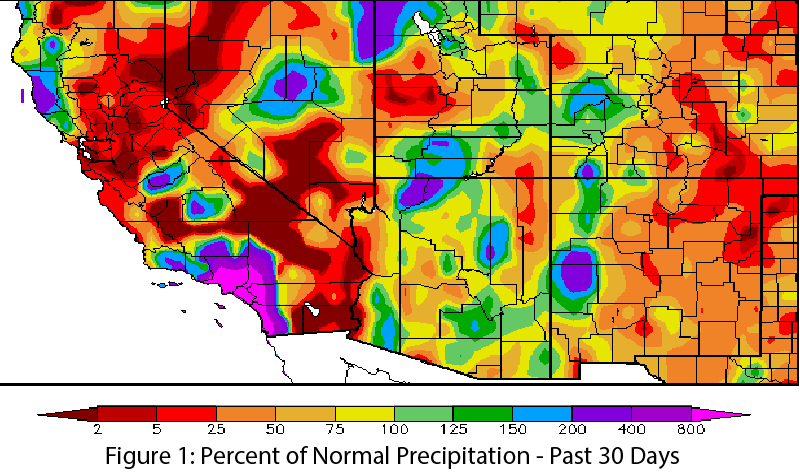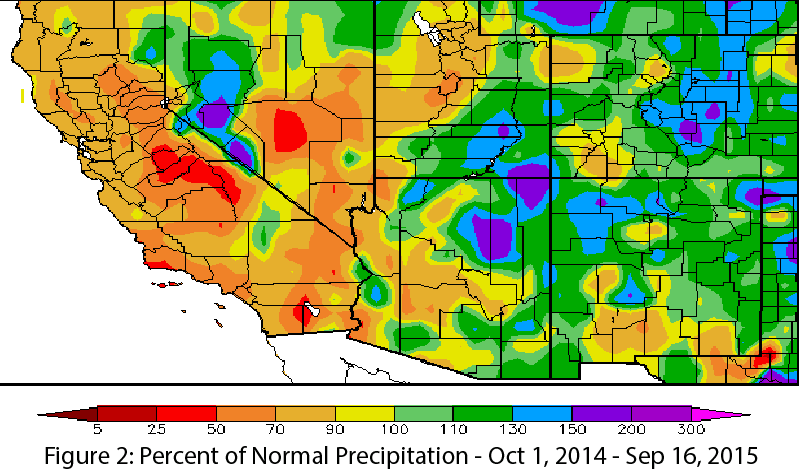 Temperature: Temperature anomalies in the past 30 days were between 0 and 6 degrees F above average across most of Arizona and New Mexico (Fig. 3). Despite similarly near-record warm temperatures so far in 2015, temperatures have not felt as hot as they did last year, with above-average humidity suppressing daytime high temperatures and boosting nighttime lows. Arizona recorded near-record high statewide average temperatures from January to August 2015, while average temperatures in New Mexico for the same time period were among the state's top 10 warmest (Fig. 4). Extremely hot days have been rare, with fewer than average very hot days across the region.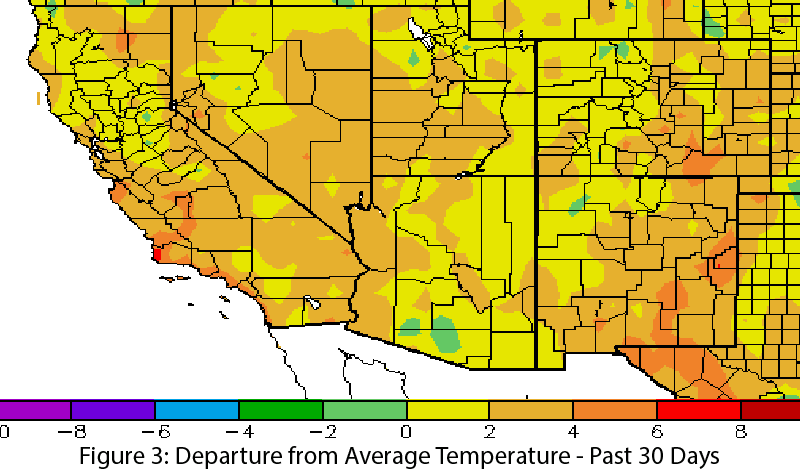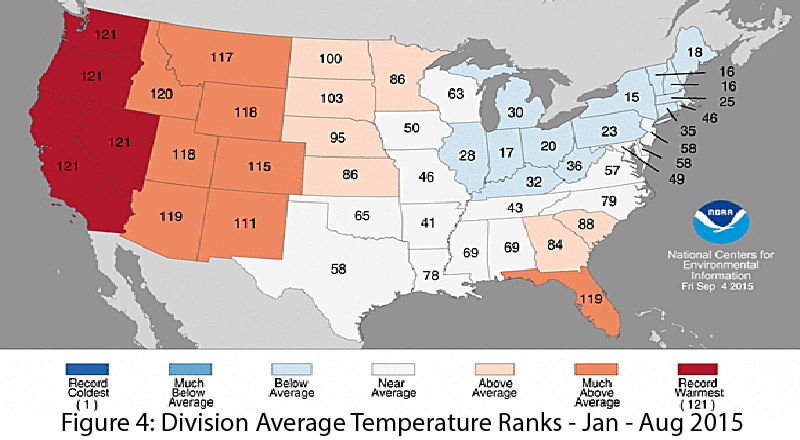 Monsoon: Variable spatial coverage and intensity along with intermittent frequency of precipitation events makes it difficult to characterize any monsoon as "normal." That said, 2015 has been fairly typical for monsoon precipitation; the storms have been variable, most locations saw regular precipitation events that brought their total precipitation close to long-term averages, and, unlike last year, fewer locations recorded high-intensity precipitation events that dropped a full season or years' worth of precipitation in a single storm event (see Monsoon Tracker on pgs. 6-7 for details).
Tropical Storm Activity: During late summer and into fall, tropical storms in the eastern Pacific Ocean have a better chance to recurve back into the Southwest, rather than heading west across the Pacific Ocean. Record sea surface temperatures intensify these storms, upping the chance that an organized system will bring moisture (humidity) and precipitation to the Southwest. Despite regular incursions of tropical moisture, we have not seen many heavy precipitation events associated with tropical storms, as we did with Norbert and Odile in 2014, save for recent extreme flooding in northern Arizona and Utah. However, we are just past the midway point of the tropical storm season, leaving time for tropical storm systems to bring additional (possibly heavy) rainfall to the region.
Drought & Water Supply: The U.S. Drought Monitor identifies persistent multi-year drought across the West. Arizona and New Mexico are grappling with years of accumulated drought and water deficits, but water year precipitation has helped scale back drought conditions, particularly in New Mexico (see Reservoir Volumes on pg. 8 for details).
Precipitation & Temperature Forecasts: The Sept. 17 NOAA-Climate Prediction Center seasonal outlook predicts above-average precipitation for most of the Southwest this fall (Fig. 5, top). Notable exceptions are northern California and most of the Northwest. Temperature forecasts are split, with elevated chances for above-average temperatures along the West Coast and into southwestern Arizona, and increased chances for below-average temperatures centered over Texas and extending across most of New Mexico (Fig. 5, bottom).