Southwest Climate Outlook Dec 2014
Thursday, December 18, 2014
Assistant Research Professor, Arizona Institutes for Resilience
Other Affiliations:
Assistant Professor of Anthropology, School of Anthropology
---
Ben McMahan joined CLIMAS after completing a PhD in Sociocultural Anthropology at the University of Arizona. His dissertation research was on hurricanes and disaster on the U.S. Gulf Coast, where he focused on
Human interactions in dynamic social and environmental contexts,
Risk perception and landscape changes during and after disaster, and
Social network and policy responses to governance issues related to the acute threats of disaster; as they layer onto long term environmental issues and landscape scale changes.
He was also a key contributor to UA Bureau of Applied Research in Anthropology (BARA) collaborative/trans-disciplinary research on the social, economic, and environmental impacts of the US Oil and Gas industry (2007-2011), and the aftermath of the Deepwater Horizon oil spill (2010-2013).
At CLIMAS, his research activities included tracing how climate information is incorporated into regional decision maker networks, leading CLIMAS team research on the risks and effects of climate extremes, and collaborative research on the effects of climate variability on phenology and temporality of native plants in the region. He was also responsible for working to develop collaborative research opportunities and outreach efforts at CLIMAS, and as part of ongoing assessment and science/strategic planning, he contributed to strategic planning used to prioritize future research and outreach directions. He also coordinated publication of the monthly Southwest Climate Outlook, produced the Southwest Climate Podcasts, and was the online editor for CLIMAS' blog - Southwestern Oscillations.
Taken from the Dec 18, 2014 - Southwest Climate Outlook -
---
Precipitation: November was particularly dry in Arizona and New Mexico, with many locations recording no measureable precipitation (Fig. 1). A few events in December brought widespread moisture to the region, but actual measureable precipitation was still relatively low despite these incursions. The dew point remains well above seasonal averages, likely related to the persistent tropical activity and the conditions that favor the formation of an El Niño event.
Source: High Plains Regional Climate Center - HPRCC
Temperature: Arizona and New Mexico were warmer than average over the past 30 days (Fig. 2), continuing a yearlong trend, and Arizona is on track for the warmest year on record. The persistently high dew point is also related to observed temperature, as we have yet to see an extended cool/dry period that brings lower nighttime temperatures to the region.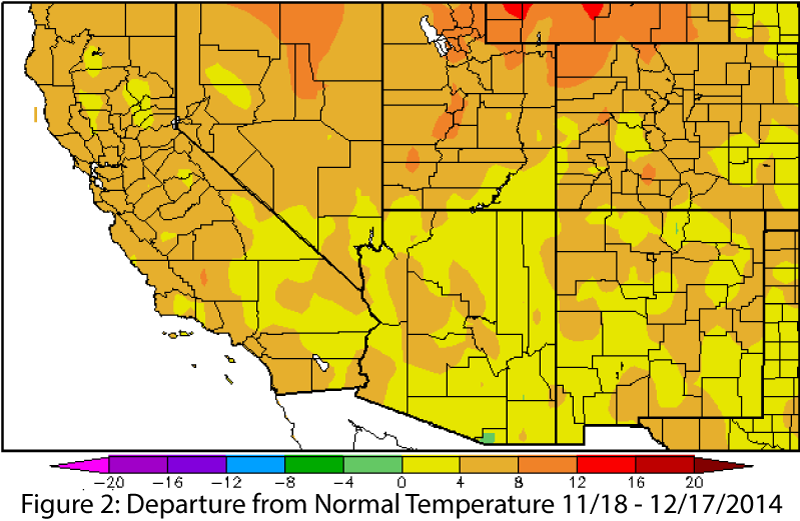 Source: High Plains Regional Climate Center - HPRCC
Snowpack & Water Supply: Snow water equivalent (SWE) is low across Arizona and New Mexico, ranging from 0 to 50 percent of average in Arizona and 0 to 90 percent of average in New Mexico (Fig. 3). Despite a few widespread snowfall events, high temperatures and below-average precipitation have led to lower-than-average snowpack levels across the region. In October, total reservoir storage was 45 percent in Arizona (compared to 47 percent last year) and 22 percent in New Mexico (compared to 22 percent last year).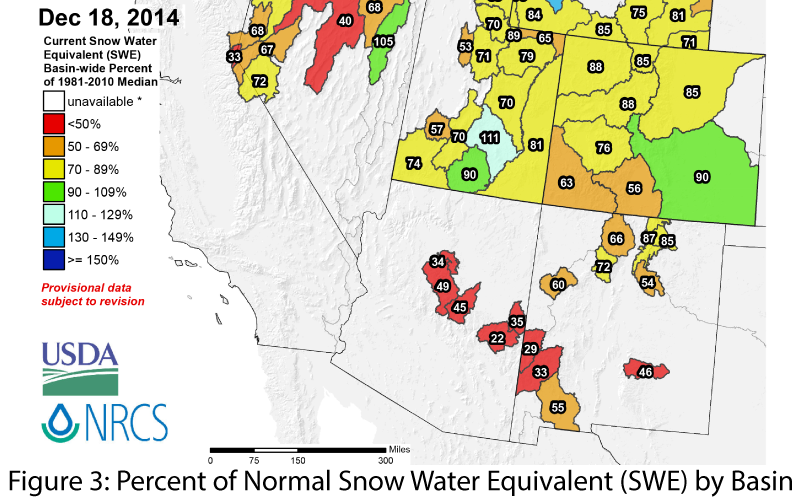 Source: Natural Resources Conservation Service - NRCS
Drought: The monsoon and tropical storm season brought seasonal rainfall totals close to or above average across Arizona and New Mexico, but these intense storms provided limited long-term drought relief, with widespread areas well below-average over the past 12 to 36 months (Fig. 4). The Four Corners region, northeast New Mexico, and portions of southern Arizona experienced the largest deficits in the past 12 months. The likelihood of an El Niño event continues to offer hope for additional drought relief. There is hope that regular precipitation over the winter may still help saturate soils in the region, which could lead to higher reservoir storage during springtime snowmelt runoff events, even if temperatures stay above average and snowpack is below average,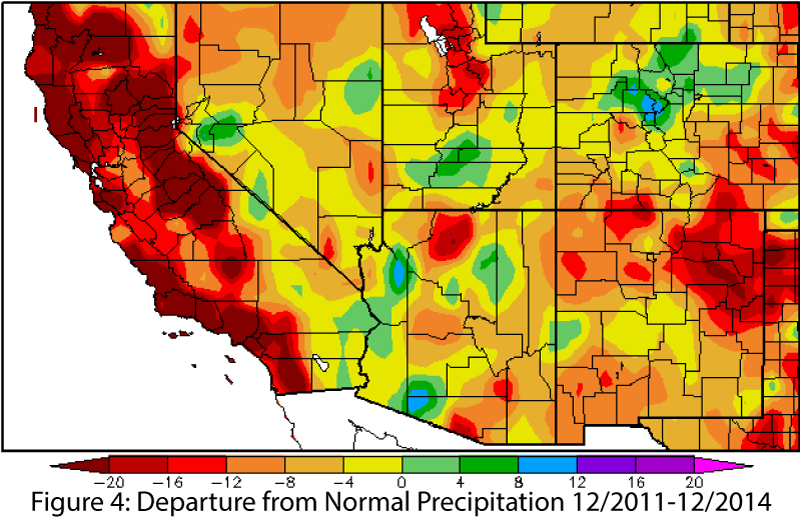 Source: High Plains Regional Climate Center - HPRCC
ENSO: Forecast projections range from 65 percent to more than 80 percent probability that an El Niño will occur, with several outlooks indicating an El Niño event is imminent, if not already underway. The Southwest is experiencing El Niño-like weather patterns and should continue to do so into the spring, especially if the El Niño event is moderate in strength.
Precipitation Forecasts: The Dec. 18 NOAA-Climate Prediction Center seasonal outlook continues to predict above-average precipitation through the winter and into early spring (Fig. 5). This forecast is tied to the ongoing conditions favorable to an El Niño event and the impact of the Pacific Decadal Oscillation.
Temperature Forecasts: The Dec. 18 NOAA-Climate Prediction Center temperature forecasts remain split across the region, with elevated chances for above-average temperatures along the West Coast, extending eastward into Arizona, and with increased chances for below-average temperatures along the Gulf Coast into New Mexico (Fig. 5). This pattern is projected through the winter and into the spring.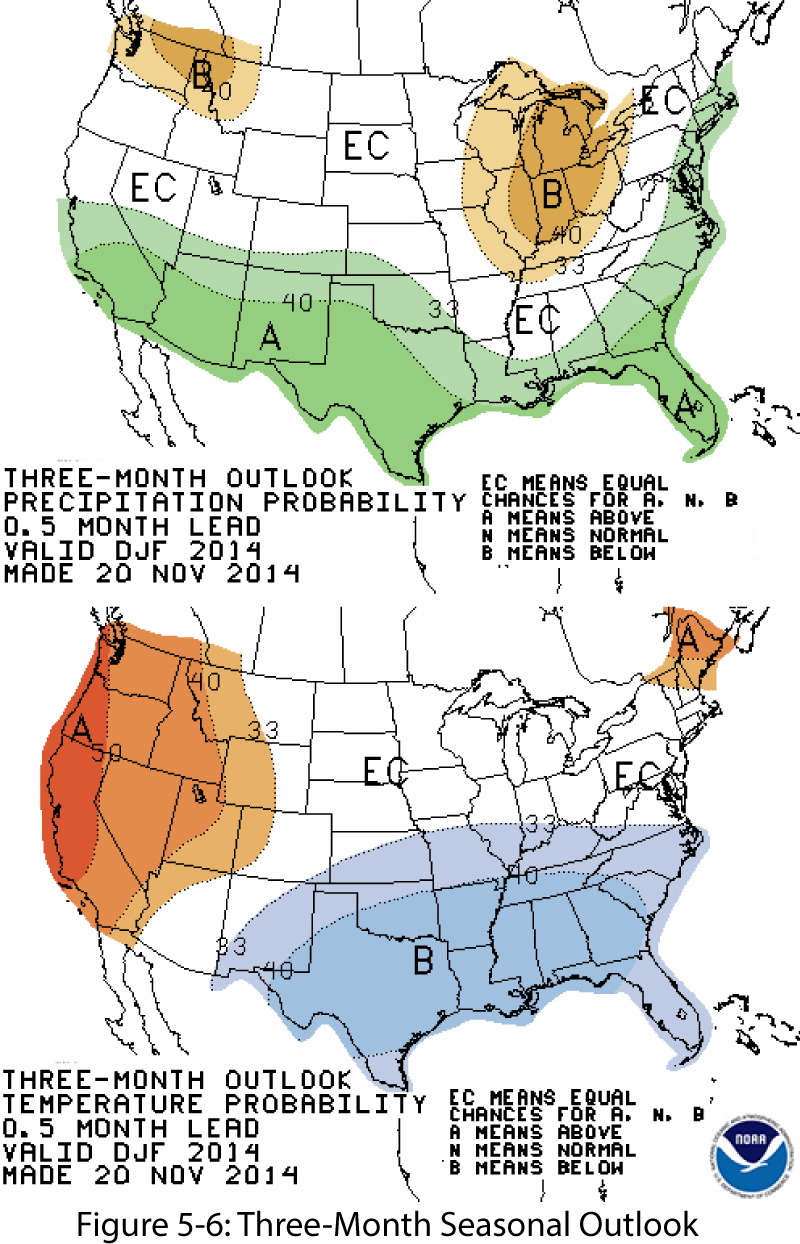 Source: NOAA-Climate Prediction Center