Notes from an Applied Climatologist - Oct 2014 Rainlog Climate Summary
Professor & Extension Specialist - Climate Science
Department of Environmental Science
Dr. Crimmins is on the faculty of the Department of Environmental Science at the University of Arizona and is a Climate Science Extension Specialist for Arizona Cooperative Extension. In this position he provides climate science support to resource managers across Arizona by assessing information needs, synthesizing and transferring relevant research results, and conducting applied research projects. His extension and research work supports resource management across multiple sectors including rangelands, forests/wildfire, and water resources as well as informing policy and decision makers. This work aims to support managers by increasing climate science literacy as well as developing strategies to adapt to a changing climate. He also serves as a drought monitoring expert on the Arizona Governor's Drought Task Force and has worked with counties across Arizona to implement drought preparedness and impact monitoring plans.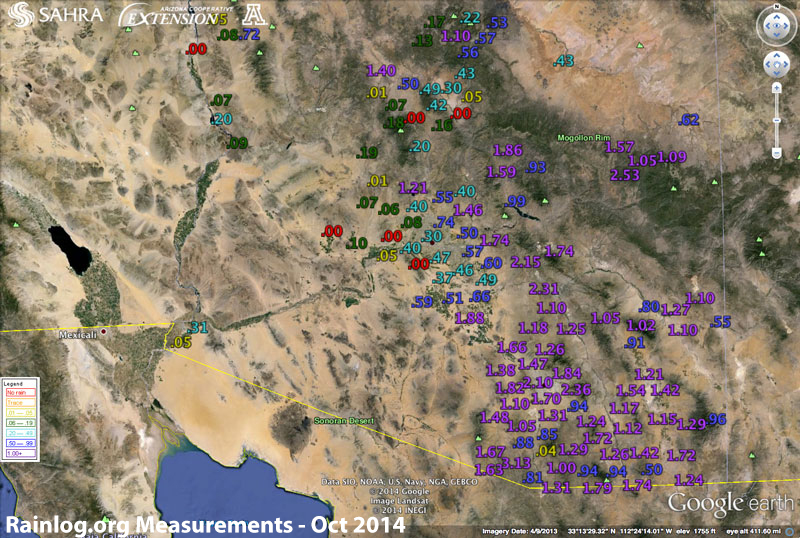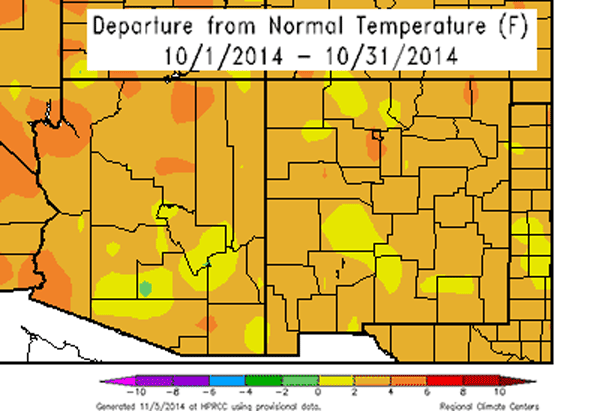 Very warm conditions and a couple of unusually wet days characterized the weather of October across Arizona. The month started off rather quiet as an exiting cold front left relatively cool and dry conditions in its wake over the first couple of days of October. A strong ridge of high pressure was able to nose its way back into the Southwest during the first week of the month rapidly pushing temperatures back up to near-record levels across Arizona with temperatures well into the upper 90's across the low deserts. This rapid warmup was followed by a rapid cool down with an impressive rain event that unfolded across southern Arizona on October 8th and 9th. The busy eastern Pacific tropical storm season wasn't done with Arizona yet with tropical storm Simon helping to guide abundant moisture into the region just in time for it to interact with a weak trough of low pressure swinging in from the west. This produced several rounds of heavy rain primarily across southern Arizona with many Rainloggers in the Tucson area reporting 1-2" of total precipitation. Rainlogger north and east of Phoenix and across southeast Arizona also reported decent rainfall totals of 0.5 to 1.5" inches with this tropical event.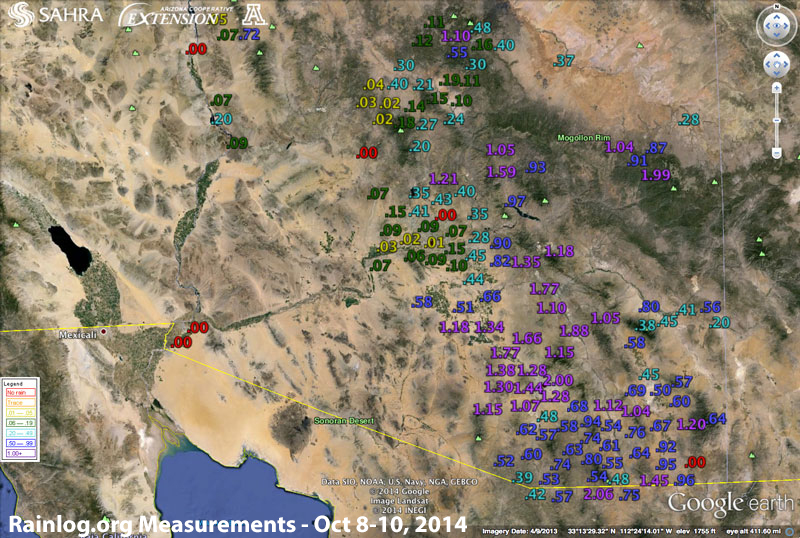 The weak trough moving through the region kept temperatures in check for a few days before the ridge was back with the heat. This lasted until a weak low pressure system wandered in from the Pacific towards Arizona on the 18th and 20th of the month helping to fire off isolated thunderstorm across primarily central and southern parts of the state. Rainlog reports of precipitation were spotty with this event with some isolated reports of over 1" near Phoenix and south of Tucson with many obervers from Sierra Vista to Globe to Show Low reporting 0.3 to 0.5" inches with these storms.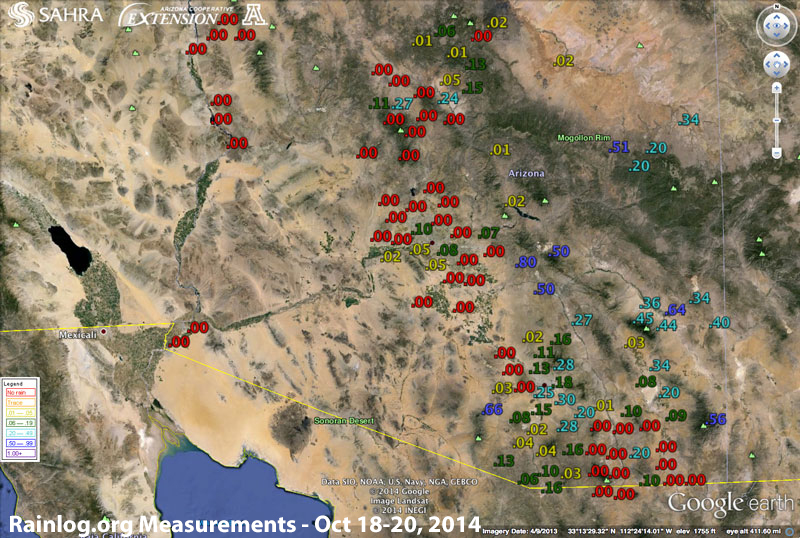 The month rounded out with more near-record warmth and overall dry conditions. Precipitation totals for the month were generally above average across southern Arizona which saw the bulk of the storm activity and below-average across the northern half of the state which observed very little to no rainfall for the month. The Tucson National Weather Service Office reports that October of 2014 was the 3rd warmest on record and the record when considering only low temperatures. Across the state temperatures were generally 2-6 deg F above-average. Even with the unusually wet conditions across the southern part of the state, longer-term drought conditions persist across all of Arizona. Our eyes now turn towards the winter with the continued hope of an emerging El Nino bringing hopefully average to above-average precipitation for the Southwest.