Notes from an Applied Climatologist: How does El Niño affect the monsoon in the Southwest?
Professor & Extension Specialist - Climate Science
Department of Environmental Science
Dr. Crimmins is on the faculty of the Department of Environmental Science at the University of Arizona and is a Climate Science Extension Specialist for Arizona Cooperative Extension. In this position he provides climate science support to resource managers across Arizona by assessing information needs, synthesizing and transferring relevant research results, and conducting applied research projects. His extension and research work supports resource management across multiple sectors including rangelands, forests/wildfire, and water resources as well as informing policy and decision makers. This work aims to support managers by increasing climate science literacy as well as developing strategies to adapt to a changing climate. He also serves as a drought monitoring expert on the Arizona Governor's Drought Task Force and has worked with counties across Arizona to implement drought preparedness and impact monitoring plans. 
---
Research on the interactions between El Niño events and the North American Monsoon System suggests that during past El Niño events, there was a slowing of the onset of monsoon precipitation across the Southwest U.S.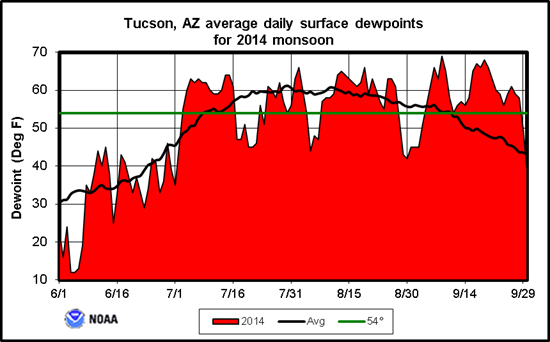 In summer 2014 the monsoon moved in right on time, ushered in by surges of moisture that moved up the Gulf of California into the desert Southwest, several of which were triggered by tropical storms and hurricanes in the eastern Pacific that flourished in highly favorable conditions, including light upper level winds and very warm ocean water. These conditions were not necessarily related to El Niño, as conditions that favor an El Niño event were largely absent in the atmosphere, with only glimmers of favorable patterns of sea surface temperatures across the eastern Pacific Ocean, and the fact that the current El Niño had been struggling to form (in 2014) may be one reason we had a relatively "normal" start to the monsoon (in 2014)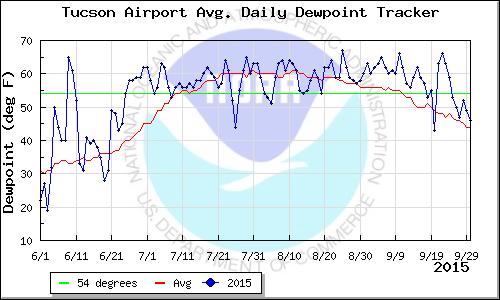 In summer 2015, monsoon moisture moved in ahead of schedule in late June with dewpoints in southern Arizona skyrocketing from the low 30's (F) in mid-June to above 60F by the end of the month. Abundant tropical moisture was drawn north up into the Southwest as the subtropical ridge expanded and strengthened over the western U.S. Previous research on connections between monsoon onset and El Nino suggest that during strong El Nino events, the subtropical ridge struggles to form early on and delays the onset of the season. This was not the case this year as a moderate to strong El Nino was fully engaged with the atmospheric circulation pattern across the globe. It is possible that strong Madden-Julian Oscillation activity through June helped offset some of the typical ENSO effects on the North American Monsoon early on in the season.
---
For more on this year's monsoon, see the monsoon recap in the Oct 2015 CLIMAS SW Climate Outlook