Climate Summary - Southwest Climate Outlook February 2015
Thursday, February 19, 2015
Assistant Research Professor, Arizona Institutes for Resilience
Other Affiliations:
Assistant Professor of Anthropology, School of Anthropology
---
Ben McMahan joined CLIMAS after completing a PhD in Sociocultural Anthropology at the University of Arizona. His dissertation research was on hurricanes and disaster on the U.S. Gulf Coast, where he focused on
Human interactions in dynamic social and environmental contexts,
Risk perception and landscape changes during and after disaster, and
Social network and policy responses to governance issues related to the acute threats of disaster; as they layer onto long term environmental issues and landscape scale changes.
He was also a key contributor to UA Bureau of Applied Research in Anthropology (BARA) collaborative/trans-disciplinary research on the social, economic, and environmental impacts of the US Oil and Gas industry (2007-2011), and the aftermath of the Deepwater Horizon oil spill (2010-2013).
At CLIMAS, his research activities included tracing how climate information is incorporated into regional decision maker networks, leading CLIMAS team research on the risks and effects of climate extremes, and collaborative research on the effects of climate variability on phenology and temporality of native plants in the region. He was also responsible for working to develop collaborative research opportunities and outreach efforts at CLIMAS, and as part of ongoing assessment and science/strategic planning, he contributed to strategic planning used to prioritize future research and outreach directions. He also coordinated publication of the monthly Southwest Climate Outlook, produced the Southwest Climate Podcasts, and was the online editor for CLIMAS' blog - Southwestern Oscillations.
Originally published in the Feb 2015 Southwest Climate Outlook
Precipitation: The borderlands region of southern Arizona and portions of southern, central, and northeastern New Mexico all recorded above-average precipitation, but most of Arizona and New Mexico received average or below-average precipitation in the past 30 days despite a number of January storms (Fig. 1).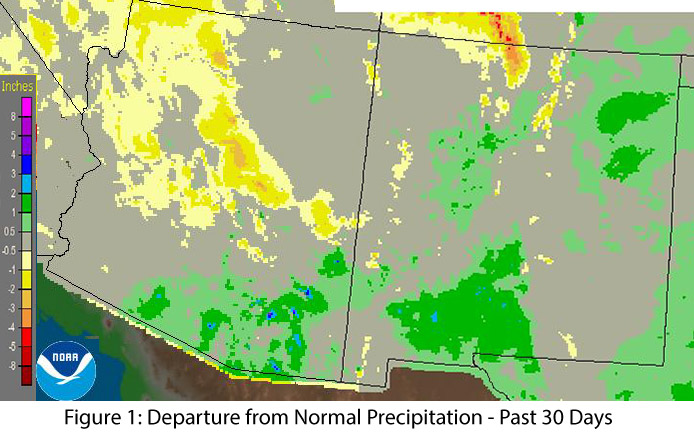 Images Source - NOAA/NWS - Advanced Hydrologic Prediction Service
Temperature: After a record year for Arizona (and a top five year for New Mexico), temperatures remained well above average in the Southwest over the past 30 days (Fig. 2). This means pleasant weather compared to the frigid and snowy conditions in the eastern and central U.S. but has implications for drought, water storage, phenology, and human health.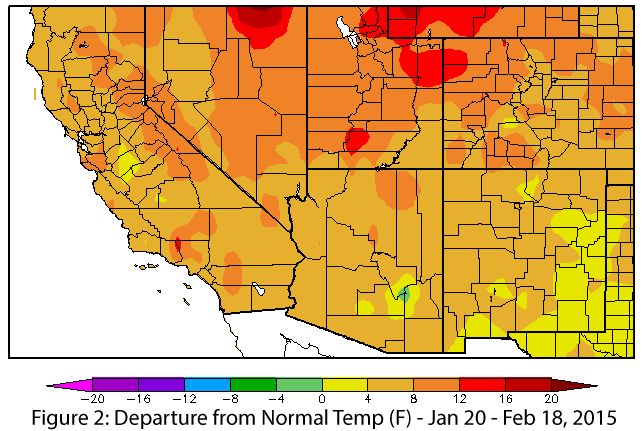 Images Source - High Plains Regional Climate Center
Snowpack: Snow water equivalent (SWE) is low across Arizona, ranging from 1 to 62 percent of average. New Mexico is also quite low, ranging from 32 to 85 percent of average (Fig. 3). Well above-average temperatures are a significant factor, as many precipitation events fell primarily as rain, with the snowline as high as 8,000 feet in some cases.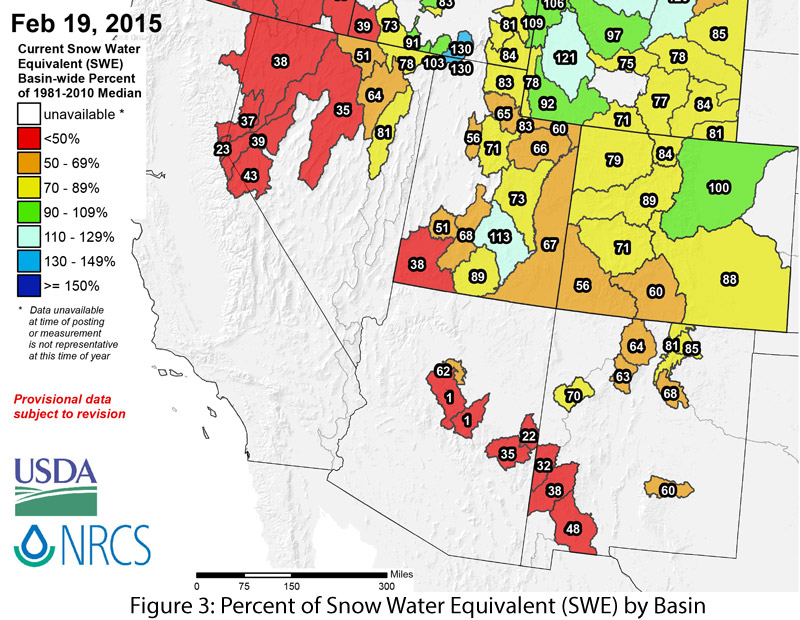 Images Source - Natural Resources Conservation Service - NRCS
Water Supply: In January, total reservoir storage was 45 percent in Arizona (compared to 46 percent last year) and 23 percent in New Mexico (same as last year) (see reservoir storage on page 5, for details). Unseasonably warm temperatures mean more precipitation falling as rain and an early start to snowmelt runoff. This may increase reservoir storage in the short term, but losses to evaporation/sublimation may counter these gains in the long term.
Drought: The 2014 monsoon, along with an active eastern Pacific tropical storm season, provided temporary relief to regional drought but did little to change long-term conditions. The U.S. Drought Monitor (USDM) expanded the drought designations in Arizona and New Mexico following variable and generally below-average precipitation (Fig. 4).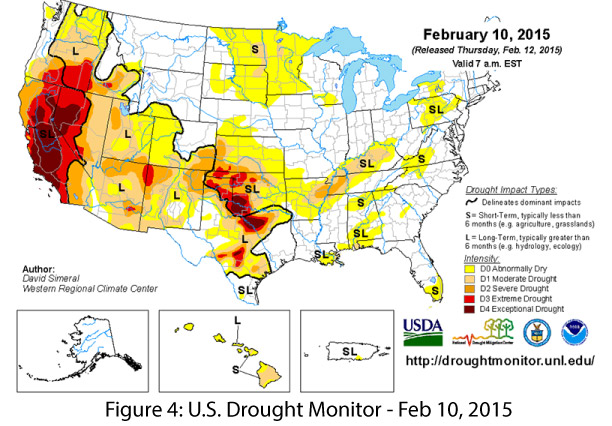 Images Source - National Drought Mitigation Center
Plant Ecology & Human Health: Above-average temperatures and winter rains jumpstarted plant activity across the region. Plant enthusiasts are anticipating a banner year for wildflowers, but this comes at a cost. Pollen counts are already at levels that affect most allergy sufferers, a pattern almost certain to extend through the spring.
ENSO: The NOAA-Climate Prediction Center maintained a 50–60% probability of an El Niño event this winter and into early spring. Declines in sea surface temperatures, especially in the Niño 1-2 region, were partially offset by increased atmospheric activity. Consensus is on a borderline weak event extending into early spring, with the potential for a resurgence of El Niño conditions later in 2015 (see ENSO tracker on page 3, for more details).
Precipitation & Temperature Forecasts: The Feb. 19 NOAA-Climate Prediction Center seasonal outlook continues to predict above-average precipitation through the winter and into spring for most of the Southwest (Fig. 5). It remains to be seen how much this forecast depends on El Niño conditions, which are currently trending weak to neutral. Temperature forecasts remain split across the region, with elevated chances for above-average temperatures along the West Coast and into Arizona and increased chances for below-average temperatures along the Gulf Coast into New Mexico (Fig. 6).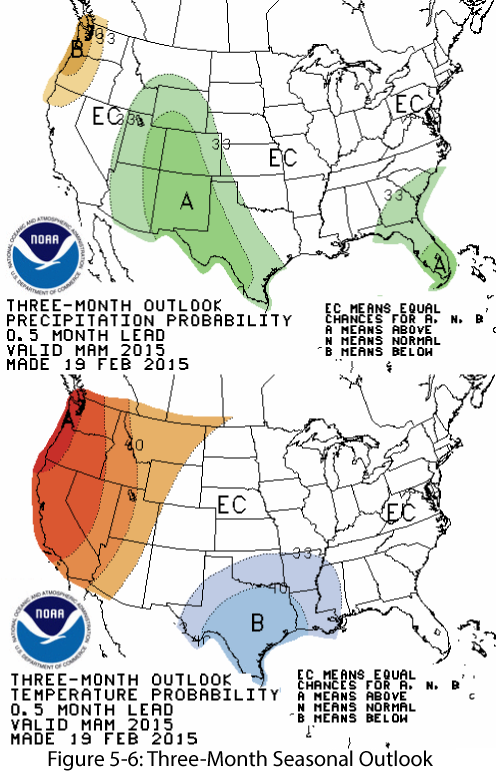 Images Source - NOAA-Climate Prediction Center