CLIMAS Colloquium: Connie Woodhouse - Collaborative Research in the Upper Colorado River Basin: User-Driven Research Results and Challenges
Assistant Research Professor, Arizona Institutes for Resilience
Other Affiliations:
Assistant Professor of Anthropology, School of Anthropology
---
Ben McMahan joined CLIMAS after completing a PhD in Sociocultural Anthropology at the University of Arizona. His dissertation research was on hurricanes and disaster on the U.S. Gulf Coast, where he focused on
Human interactions in dynamic social and environmental contexts,
Risk perception and landscape changes during and after disaster, and
Social network and policy responses to governance issues related to the acute threats of disaster; as they layer onto long term environmental issues and landscape scale changes.
He was also a key contributor to UA Bureau of Applied Research in Anthropology (BARA) collaborative/trans-disciplinary research on the social, economic, and environmental impacts of the US Oil and Gas industry (2007-2011), and the aftermath of the Deepwater Horizon oil spill (2010-2013).
At CLIMAS, his research activities included tracing how climate information is incorporated into regional decision maker networks, leading CLIMAS team research on the risks and effects of climate extremes, and collaborative research on the effects of climate variability on phenology and temporality of native plants in the region. He was also responsible for working to develop collaborative research opportunities and outreach efforts at CLIMAS, and as part of ongoing assessment and science/strategic planning, he contributed to strategic planning used to prioritize future research and outreach directions. He also coordinated publication of the monthly Southwest Climate Outlook, produced the Southwest Climate Podcasts, and was the online editor for CLIMAS' blog - Southwestern Oscillations.
This presentation will focus on ongoing work to better understand the effects of temperature on water supplies in the upper Colorado River basin. Overall, spring and early summer temperatures explain only a small portion of the variance in water year streamflow in the basin. However, in a subset of years (both warm and cool), temperatures appear to have a stronger influence on streamflow than might be anticipated, given the precipitation. The presentation will also touch on the challenges associated with incorporating the input of water resource management partners, a central component of the project design.
---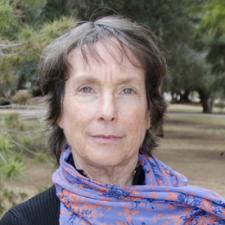 Connie Woodhouse's research concerns the climatology of western North America, including paleoclimatic reconstructions of past climate and hydrologic conditions from tree rings, the analysis of past and current climate, and circulation features that influence climate, particularly at decadal and longer time scales. Her work has ranged from the reconstruction and analysis of drought in the western Great Plain, to temperature variability over the past eight centuries in western North America, to the development of a network of streamflow reconstructions for major rivers in the Colorado, Platte, and Rio Grande river basins. A recent emphasis has been on applied research to assist water resource managers in using reconstructions of past hydroclimatic variability in drought planning and water resource management.
---
WEBINAR: We've arranged to share tomorrow's presentation through GoToMeeting
Registration URL: https://attendee.gotowebinar.com/register/3792343512959958017
Webinar ID: 149-958-747