1075' - Shortage on the Colorado River, A CLIMAS Podcast Series
Assistant Research Professor, Arizona Institutes for Resilience
Other Affiliations:
Assistant Professor of Anthropology, School of Anthropology
---
Ben McMahan joined CLIMAS after completing a PhD in Sociocultural Anthropology at the University of Arizona. His dissertation research was on hurricanes and disaster on the U.S. Gulf Coast, where he focused on
Human interactions in dynamic social and environmental contexts,
Risk perception and landscape changes during and after disaster, and
Social network and policy responses to governance issues related to the acute threats of disaster; as they layer onto long term environmental issues and landscape scale changes.
He was also a key contributor to UA Bureau of Applied Research in Anthropology (BARA) collaborative/trans-disciplinary research on the social, economic, and environmental impacts of the US Oil and Gas industry (2007-2011), and the aftermath of the Deepwater Horizon oil spill (2010-2013).
At CLIMAS, his research activities included tracing how climate information is incorporated into regional decision maker networks, leading CLIMAS team research on the risks and effects of climate extremes, and collaborative research on the effects of climate variability on phenology and temporality of native plants in the region. He was also responsible for working to develop collaborative research opportunities and outreach efforts at CLIMAS, and as part of ongoing assessment and science/strategic planning, he contributed to strategic planning used to prioritize future research and outreach directions. He also coordinated publication of the monthly Southwest Climate Outlook, produced the Southwest Climate Podcasts, and was the online editor for CLIMAS' blog - Southwestern Oscillations.

Lake Mead from the Hoover Dam - Source: Wikipedia Commons
1075' – Shortage on the Colorado River is a CLIMAS podcast series that explores what the first ever shortage declaration on the Colorado River would mean to those living in the Southwest.
1075 refers to the elevation of Lake Mead – in feet above sea level – that serves as the trigger for shared shortage restrictions[1]. While this has never happened before[2], after years of drought and ever-increasing demands on the river, the latest projections from the Bureau of Reclamation suggest the lake could drop below 1075[3] as soon as early 2015.
In this series, we attempt to demystify the rules and regulations that govern water use on the Colorado River and discuss what it means to the people and sectors across Arizona when a shortage occurs. This series will explore the opportunities and consequences of a shortage to construct a nuanced view of a complex issue.
Episode 1: Management of the Colorado River (Doug Kenney) - In this episode, we take a broad view of the Colorado River Basin, exploring how the river is managed, who uses the water, and what a potential shortage could mean for the system. Our guest is Doug Kenney, Director of the Western Water Policy Program, a division of the Getches-Wilkinson Center for Natural Resources, Energy and the Environment, at the University of Colorado School of Law.
---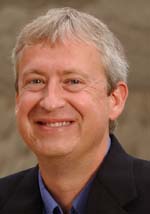 Douglas S. Kenney's Bio:
Doug Kenney is Director of the Western Water Policy Program, a division of the Getches-Wilkinson Center for Natural Resources, Energy and the Environment at the University of Colorado School of Law. He researches and writes extensively on several water-related issues, including law and policy reform, river basin and watershed-level planning, the design of institutional arrangements, water resource economics, and alternative strategies for solving complex resource issues. Dr. Kenney has served as a consultant to a variety of local, state, multi-state, and federal agencies, including several Interior Department agencies, EPA, the US Forest Service, and special commissions (e.g., the Western Water Policy Review Advisory Commission); and national governments and non-governmental organizations in Asia and Africa. Additionally, he has made presentations in (at least) 19 states (and the District of Columbia), 7 nations, and 4 continents.
---
[1] Note: Mead elevation falling below 1075' in a given month does not automatically trigger shortage restrictions. The January 1st forecast from the August 24-month study is the Mead elevation value that determines if a Tier 1 Lower Basin shortage will occur. The 24-month study is a monthly report produced by the Bureau of Reclamation to keep track of Colorado River system reservoirs. So even if Lake Mead is forecasted to drop below 1075' in mid-2015, shortage is not declared unless the 2014 August 24-month study forecasts a January 1st Mead elevation at or below 1075'.
[2] Any shortage before 2026 would be the first declared shortage under the 2007 Interim Guidelines. However, there was a shortage declared in 1963/1964 when Lake Powell was filling up. Drought caused low inflows into Lake Mead and deliveries to the Lower Basin were subsequently cut.
[3] The Applied Climate Science Group in the School of Natural Resources at the University of Nebraska-Lincoln has compiled an impressive array of photos and data relating to the drop in Lake Mead levels - be sure to check it out!
Many thanks to Dr. Mohammed Mahmoud (of the Colorado River Programs / Central Arizona Project) for providing the clarifications in footnotes [1] and [2].